Press Release – Future Envisioning Exercise: Regaining Trust
UCLG's Future Envisioning Exercises, which serve as a means to unfold the Pact for the Future, have been initiated by the UCLG Policy Councils. They are a space of dialogue and co-creation in which the UCLG political leadership, together with organized civil society and partners articulated in the UCLG Town Halls will build bridges to unfold the Pact.
During these, the aim is to explore and discuss how the notions and implementation of Regaining Trust  will contribute to how the Pact for the Future supports the revision of the 2030 Agenda by the UN General Assembly at the SDG Summit and the 2024 Summit of the Future, which will align with and support the Secretary-General's "Our Common Agenda".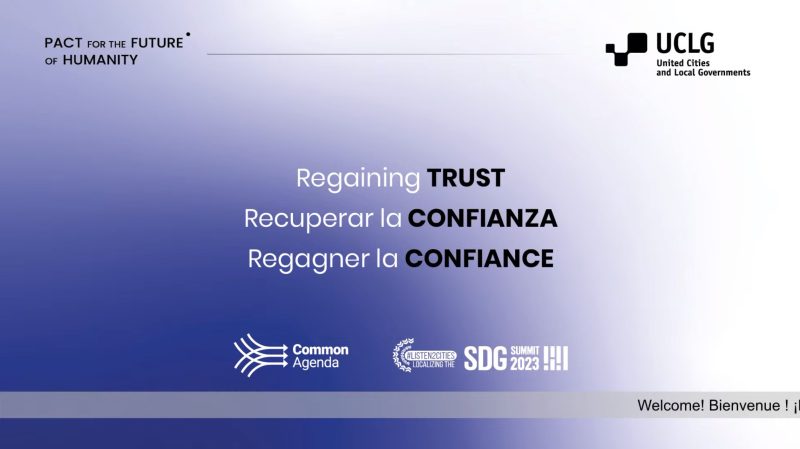 The exercise was introduced by UCLG Secretary-General Emilia Saiz, who remarked on the need to discuss the dramatic setbacks in democratization driven by growing polarization, racism, ageism and sexism that we are facing, as the Pact for the Future reminds us. She noted that, despite the great strides made by the movement and in particular UCLG-OIDP to promote participatory democracy and  equality within the framework of the SDGs, the democratic deficit and fatigue have not been overcome with trust as a critical piece of the path to recovering strength and legitimacy of institutions. These dialogues need to support us identifying concrete actions and commitments to regain trust and repair the democratic fabrics.  
The session was structured into several segments: It began with a virtual interactive consultation seeking to identify the main threats that currently exist to building trust and the critical points needed to analyze to understand the general mistrust. Followed by contributions on the subject, highlighting experiences, innovations and possible applications at the territorial level from UCLG policy councilors, representatives of the UCLG Town Halls and stakeholders. The in-focus segment allowed for partner organizations to provide their view  and finally the Agora, allowed for an open floor  among  participants.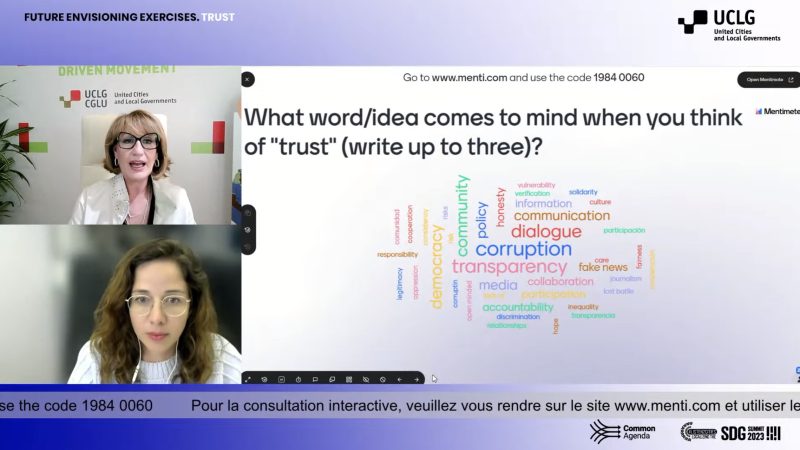 Redefining Trust as an entry point to the Pact for the Future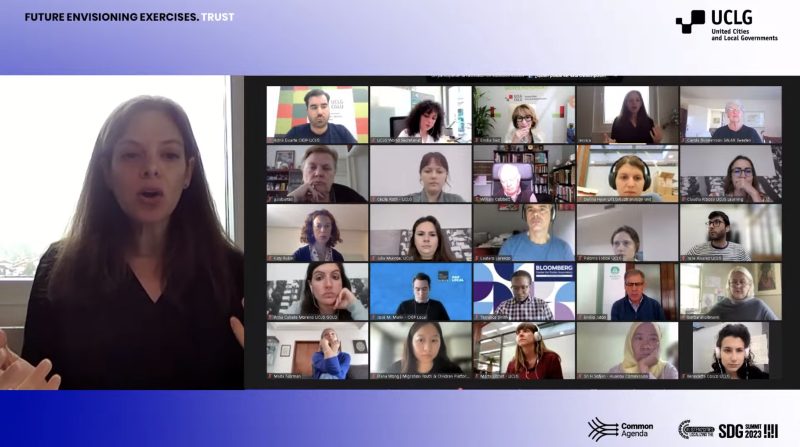 Jessica Bridger, urbanist, journalist and consultant, tried to connect the dots to influence policy making. She exposed her beliefs on making information readable, accessible and understandable to generate trust. She also highlighted a more positive approach to the growing criticism towards institutions as public opinion also puts institutions to the test and challenges them to improve. She agreed that the lack of trust was generalised towards the media, governments, business and broader community and how social media can somewhat contribute to this because of its contribution to the polarization of public opinion. She also recognised cities as potential labs where a new model for building trust can be redesigned. 
"If people narrow  trust to their peer group, those that they share the same values, the same background and more, how can we enable the coalitions and coherence across groups that are open and for over more embrace difference?  I want to propose that cities by nature are a perfect environment with the potential to build trust by building these coalitions, by building community, by bringing "people like me" into a broader definition through guided intervention. […] Today's polarization and fragmentation can split that up but perhaps underneath that there's actually a lot of common ground and cities themselves thrive on trust in institutions but also from one person to the next, from one neighbor to the next." Jessica Bridger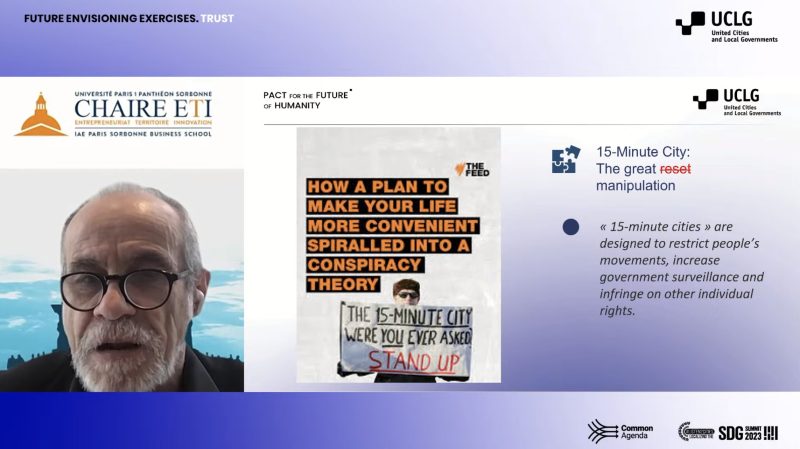 Carlos Moreno, Université Sorbonne Professor, cities expert, territories of tomorrow, and specialist in intelligent control of complex systems, presented a proximity case of freedom of speech and polarization. He shared with the participants his personal experience, having become a public enemy because of his research on the 15-Minute City – which aims that everyone living in a city should have access to essential urban services within a 15 minute walk or bike. The thesis generated a huge conspiratory response that claimed that it fostered a limitation of movement and freedoms which were embraced by political parties in different parts of the world.
As counternarrative,  entire global movement of journalists and  disclosing the fake news. Explaining the components of the ideas behind the 15 minutes cities. Scientists also contributed to dismantling the false narrative and teamed up with petititons  Mayors around the world that have been implementing similar proximity models  gave support as well. The result of this counternarrative offensice has been extrimily positive as it has open up discussions on the ideas behind the concept an even electoral results in some places have proven that the conspiracy theories can be counterested. if trust among reliable institutions and stakeholders is regained.
While quoting Averroes : "Trust is essential to overcome critical moments: conspiracy paranoia generates great manipulation. When there is so much uncertainty, ignorance generates fear, fear generates hate and hate generates violence. Carlos Moreno affirms we can regain trust by pulling together and opening dialogue among stakeholders. It is the only way to disclose fake news, address ignorance and prevent hate »
High-Impact Contributions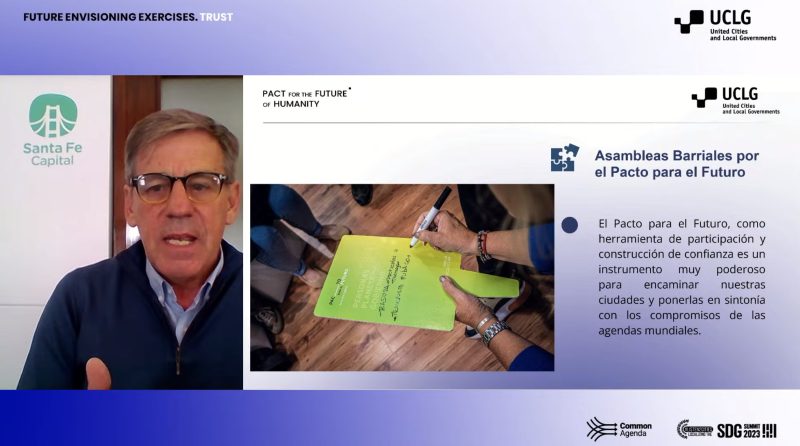 In his contribution, Emilio Jatón, Mayor of Santa Fe, presented the experience of participation and trust between citizens and the local institution he leads. He stressed the importance of building trust as a bottom-up process, coming from citizens. Santa Fe is the first city that has put in place a participatory exercise to deploy the values of the Pact for the Future and use it to define the Future of Santa Fe.  "We build the decisions, we don't make them […] We create neighborhood assemblies in which the officials and we confront the people and give answers, and from there, we make decisions. That is the place to build the decisions that will lead us to a pact for the future. As long as there is trust, there will be cooperation. Trust is a key factor in these assemblies in order to create cooperation". The Pact for the Future, he added, is a critical tool for us as elected officials and it calls us to do more with the communities.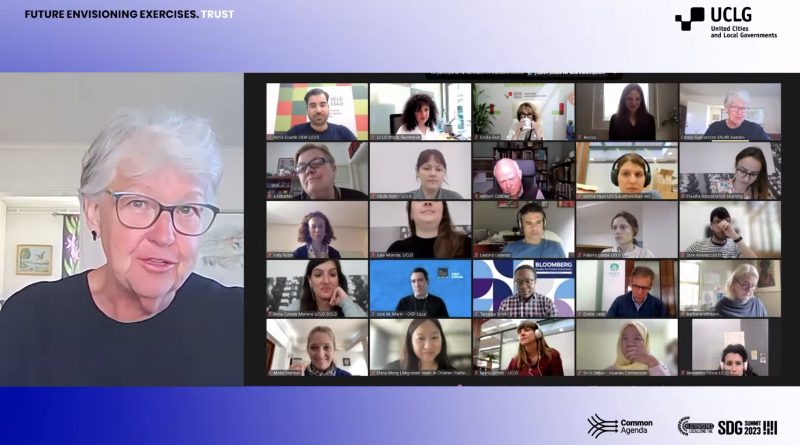 Carola Gunnarsson, Councillor of Sala, UCLG Special Envoy for Freedom, Solidarity and Fighting Violence against Local Political Leaders and UCLG Vice-President for Europe, highlighted the risks that society faces with the fake news, hate speech, verbal and physical abuses that have become the everyday experiences of local and regional representatives. She presents building trust for the democratic system as fundamental for sustainable development because. Ms. Gunnarsson exposed that active citizens should be at the center of democratic governance, by enacting clear and coherent policies and ensuring a consistent application of the rule of law and the certainty of sanctions.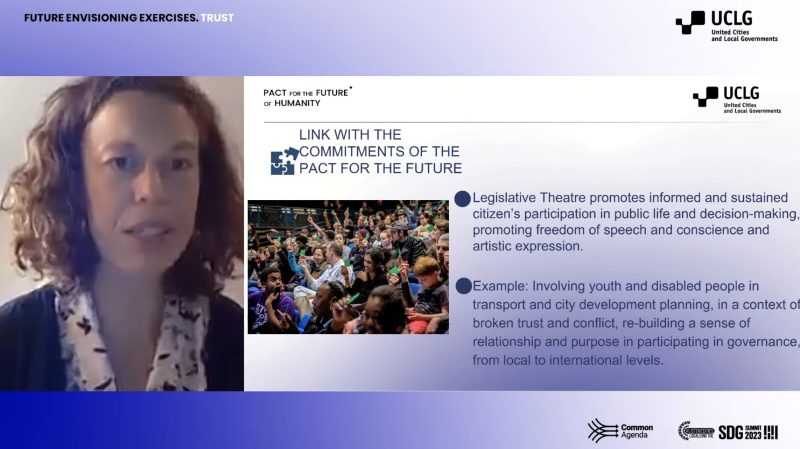 Katy Rubin, artist and civic change practitioner, winner of the 2022 IOPD Award, presented the legislative theater as a tool that comes from Brazil in the 1990s. This instrument allows  a community facing a problem, to come together and find solutions through   roleplaying and  storiesIt is a way to build a shared understanding and to also acknowledge that lived-experience is as important as skills when taking decisions that will affect the communities life.  . She underlined that there are many tools that can  help us reshape power dynamics undermining trust. For her, Joy and creativity are important ingredients for building trust collectively.
In the in-focus segment, José María Marin, from Open Government Partnership (OGP), put that open government presents an opportunity to provide a solution to improving communications and understanding between governments and citizens and hence the implementation of policies and processes, rebuilding the trust. 
The Agora: Local voices for Regaining Trust
The Agora discussion allowed to bring other critical topics to the table. The questions proposed by the UCLG were: a) what actions can our constituency in alliance with civil society take to promote trust through education, culture, more open and transparent institutions and community life based on respect for human rights?; b) what support and transformations should we demand from the international system in areas such as the regulation of major media, social media platforms, AI development companies?; and c) how should we address the debate on rebuilding trust in societies that are increasingly polarized, divided and with the rise of extremism?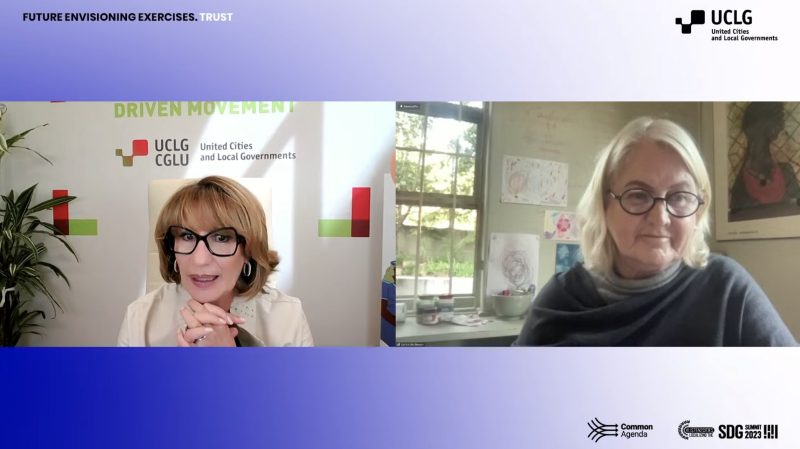 Trying to approach some answers, Barbara Holtman, from fixed Africa, stressed following her experience that the issue of violence against leaders is an indication that the levels of trust are so low that people feel that unless they are violent, they will not be heard at all. She recommended not to look at low trust as an opportunity that people have very low expectations. For her, if local governments take the lead in showing the way, then it would be possible to create the circumstance in which they allow themselves to fail. If they share accountability, then they should do it also for failing. "Innovation is a sensible option, not a risky one".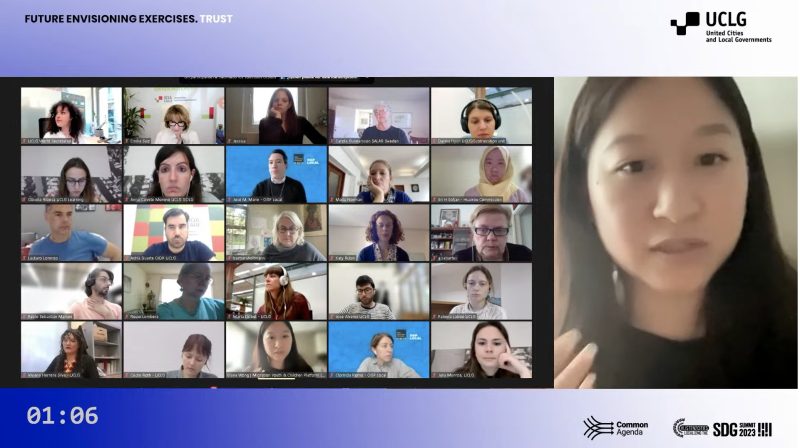 Elana Wong, co-director of the Migration Youth and Children's Platform (MYCP), showed how trust building within young and migrant youth and from marginalized backgrounds is a challenge faced with a lot of fear and lack of understanding in community needs. She felt the importance of including these marginalized communities in the building of trust, because to build trust it is necessary to co-create through the grassroots communities and local governments have much potential in being the perfect ecosystem to achieve this intersectional construction.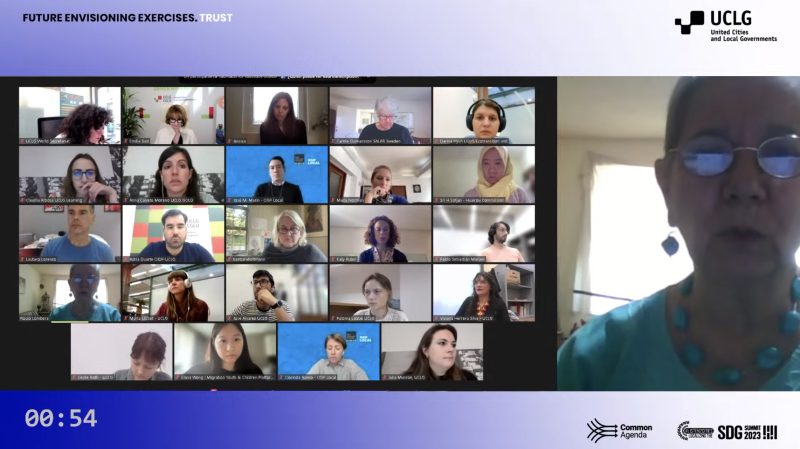 For her part, Rocío Lombera, advisor to the mayor of Iztapalapa, presented the efforts made by the Iztapalapa council in building trust taking into account that it is necessary to know every district, every neighborhood, house by house. She expressed that this proximity is a more real dialogue through direct hearings, informative assemblies where there is dialogue with the population. Taking up these perhaps antiquated mechanisms is an innovation itself and combining technology with this form of direct communication helps to regain trust.
council in building trust taking into account that it is necessary to know every district, every neighborhood, house by house. She expressed that this proximity is a more real dialogue through direct hearings, informative assemblies where there is dialogue with the population. Taking up these perhaps antiquated mechanisms is an innovation itself and combining technology with this form of direct communication helps to regain trust.
The session also counted with the intervention of Juma Asiago, Global Coordinator of the Safer Cities Programme at UN-Habitat, who exposed the need to create safety policies and programs as an important pillar that cannot be underestimated in the way that it supposes a core aspect of the governance dimension of safety. He highlighted that trust between population and the leadership is a key indicator for defining the success or failure of safety policies. 
The UCLG Future Envisioning Exercise concluded with a commitment to continue and expand the conversation on how trust can be regained and what role local governments could develop a vision document will be issued expanding on the main takeaways.This Future Envisioning Exercises is part of the series of UCLG Future Envisioning Exercises, which have included sessions on the Commons (May 4th), Finance and the Economy (May 5th) and Governance (May 11th).